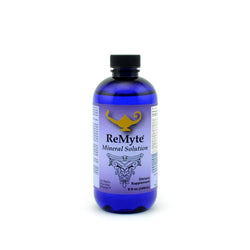 Vida Restore
ReMyte Mineral Solution 8.1 oz
ReMineralize Your Body
Product Size: 240 ml in an 8.1 oz bottle 
formerly called ReLyte
12 minerals in perfect proportions for cellular function
9 minerals activate the thyroid
Enhances immune system, hormonal system, nervous system
Electrolytes are ionic conductors of electrical current in the body. They are dissolved in bodily fluids and travel throughout the body ready to activate nerve cells and muscle cells for electrical and physical activity. Electrolytes also regulate, effect and affect metabolism at every level of the body.  ReMyte™ is a Completement formula that will balance electrolytes in your system allowing for complete hydration.
ReMyte™ goes far beyond most electrolyte solutions by providing one dozen minerals in the unique picometer size that allows for complete absorption at the cellular level. Thus the potency of the minerals can be very low, eliminating any possibility of toxicity, yet when 100% absorbed at the cellular level, these minerals are highly effective.
ReMyte™ includes Boron, Copper, Chromium, Iodine, Selenium, Zinc, all of which have very specific roles to play in bone health, blood vessel integrity, blood sugar balance, thyroid support, and immune system regulation. 
ReMyte™ works synergistically with ReMag™, our magnesium product. ReMag™ stabilizes both lipid cell membranes and the ReMyte™ minerals allowing the mineral ions to properly enter the cells and perform their cellular functions. 
Directions for Use
Adults: Maintenance Dose: Take 3/4 capful or 3/4 tsp twice daily in water or juice with food. You can also take ½ tsp three times a day. Begin slowly taking 1/4 tsp daily and increasing by 1/4 tsp every 2 days to a maintenance dose. Best taken in a liter of water - sipped through the day along with ReMag.
Children 4-12, take ½ the adult dose.
We highly recommend using ReMyte along with our other formulas as part of Dr, Deans Total Body Reset. 
*These statements have not been evaluated by the Food and Drug Administration. This product is not intended to diagnose, treat, cure or prevent any disease.