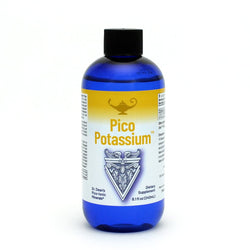 Vida Restore
Pico-Potassium
Pico Potassium Picometer Potassium
Dr. Dean's Picometer Potassium - 8.1 oz. bottle
Contains potassium that is picometer in size
Fully absorbed at the cellular level
99 mgs per serving 
Using the same proprietary technology that created ReMag and ReMyte, we have made Pico Potassium available to our customers. Pico Potassium is a stabilized ion of potassium that is fully absorbed at the cellular level. We add it to our mineral family to help support the electrolyte balance in the body. The potassium ions of Pico Potassium are derived from potassium chloride originally sourced from potash mined in Saskatchewan, Canada.
The Linus Pauling Institute reports that "Potassium is considered to be a 'nutrient of public health concern' according to the 2015-2020 Dietary Guidelines for Americans since its underconsumption in the US population is associated with adverse health effects." 
In order to support our customers, who require more potassium, as evidenced by low potassium blood tests, we have created a concentrated potassium formula with an individual dose of 99mg per ¼ tsp.
PicoPotassium® is vegan, gluten free, and contains no yeast, dairy, egg, soy, wheat, sugar, starch, artificial flavors, artificial colors, artificial preservatives or animal byproducts.
Directions
Adults place up to (1/4 teaspoon) serving in water, and consume in one sitting or throughout the day. May be taken with or without food. May be mixed with ReMag – The Magnesium Miracle or ReMyte Mineral Solution. 
We highly recommend using Pico Potassium® along with our other formulas as part of Dr. Dean's Total Body ReSet™.
*These statements have not been evaluated by the Food and Drug Administration. This product is not intended to diagnose, treat, cure or prevent any disease.