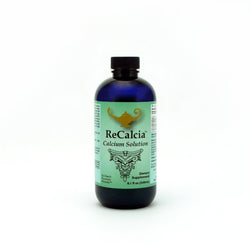 Vida Restore
ReCalcia Calcium Solution
ReCalcia® Pico Meter Calcium
Dr. Dean's Pico Meter Calcium - 8.1 oz. bottle
Contains calcium that is picometer in size
100% absorbed at the cellular level
300 mgs per servicing 
Calcium is vital for the strength and development of bones and teeth. Along with magnesium, it transmits nerve and muscle impulses and stabilizes cell membranes, decreasing their permeability to cellular toxins and allergens. Calcium is also necessary for proper blood coagulation. The UK and the WHO (World Health Organization) recommend 500-700mg per day not the US levels of 1,000-1,500mg. A dairy-rich diet and bone broth, nuts, seeds and green leafy vegetables may provide you with 600mg per day. If that is not possible you may use highly absorbed ReCalcia in its picometer-ionic form.*
My recommendation for calcium is based on the UK and WHO  guidelines, which are set at about 600 mg per day. They include calcium from food, water, and supplements. One teaspoon of ReCalcia® contains 300 milligrams of calcium. Use the calcium food list to determine how much calcium you are getting in your diet on a daily basis. The symptoms of magnesium deficiency are very easy to track compared to the symptoms of calcium deficiency, which seem to be few and far between.
ReCalcia® is vegan, gluten free (<20ppm), and contains no yeast, dairy, egg, soy, wheat, sugar, starch, artificial flavors, artificial colors, artificial preservatives or animal byproducts.
Directions
Adults place up to (1 teaspoon) serving in water, and consume in one sitting or throughout the day. For optimum results, up to two (1 teaspoon) servings may be consumed daily, either independently or combined and added to a liter of water and sipped throughout the day. May be taken with or without food. May be mixed with ReMag - The Magnesium Miracle or ReMyte Mineral Solution. 
Children 4-12: Take 1/2 teaspoon daily (half the adult dose).
Children under the age of 4: Consult your doctor.
We highly recommend using ReCalcia® along with our other formulas as part of Dr. Deans Total Body Reset. 
*These statements have not been evaluated by the Food and Drug Administration. This product is not intended to diagnose, treat, cure or prevent any disease.