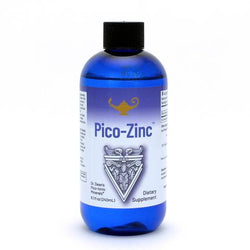 Pico-Zinc™ - Picometer Zinc
Dr. Dean's Picometer Zinc - 8.1 oz. bottle
Contains zinc that is picometer in size
Fully absorbed at the cellular level
20 mgs per 1/2 tsp serving 
Using the same proprietary technology that created ReMag and ReMyte, we have made Pico-Zinc™ available to our customers. Pico-Zinc™ is a stabilized ion of zinc that is fully absorbed at the cellular level. The zinc ions of Pico-Zinc™ are derived from zinc lactate originally sourced from zinc salts mined in East Texas, USA.
Zinc is involved in numerous aspects of cellular metabolism. It's required for catalytic activity of approximately 100 enzymes and it plays a role in immune function, protein synthesis, wound healing, DNA synthesis, and cell division. Zinc also supports normal growth and development during pregnancy, childhood and adolescence and is required for a proper sense of taste and smell. A daily intake of zinc is requires because the body has no specialized zinc storage system. 
In order to support our customers, who require more zinc, as evidenced by zinc deficiency symptoms, we have created a concentrated zinc formula with an individual dose of 20 mg per 1/2 tsp. 
Pico-Zinc™ is vegan, gluten free, and contains no yeast, dairy, egg, soy, wheat, sugar, starch, artificial flavors, artificial colors, artificial preservatives or animal byproducts.
Directions
Adults place up to 1/2 teaspoon serving in water, juice or a smoothie and consume accordingly. May be taken with or without food. May be mixed with ReMag – The Magnesium Miracle or ReMyte Mineral Solution. 
We highly recommend using Pico-Zinc™ along with our other formulas as part of Dr. Dean's Total Body ReSet™.
*These statements have not been evaluated by the Food and Drug Administration. This product is not intended to diagnose, treat, cure or prevent any disease.